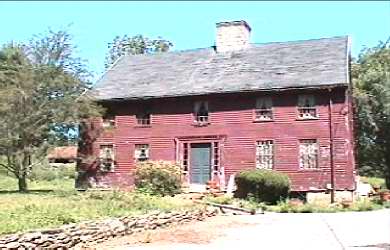 Property Details - 169 Main Street
---
Address:
169 Main Street
Inventory Num:
2
Location:
North Side 0.7 Mi west of Columbia Line
Year Built:
1740
Builder:
Unknown
Style:
Georgian
Current Use:
Residence
---
Notable Architectural Features:
Large cut stone center chimney with drip course
5 bay 2-story balanced facade
An assortment of windows; some original 12/12 sash on first level, 12/8 on second as well as scattered 6/6 and 2/2 Victorian double hung
Doorway with sidelights and lintel not original
Cut stone foundation
Small 6/6 sash in the gable ends
---
Importance:
This house sat on rte 66, but in 1946 the state decided to straighten the road; so the house was moved off the road to its present site. The Lippincotts are presently restoring the structure (1978). The home of David Barber in 1744 per Hebron map that date
(CHC Survey - #67-1)
Date [built] (Source) c. 1750 (D. R.) Orig Owner Barber Present Owner [1935-37] Ives Estate Interior: Simple. Exposed summers in all front rooms, and two very good corner cupboards.
(WPA Architectural Survey - ca. 1935 - # 1)
---
Notes:
"This large house has a comfortable look about it; large central chimney, and large fireplaces throughout, it stands proudly amidst herb and flower gardens. Truly, a beautifully proportioned house."
(from Hebron, Ct: Hebron Historical Society booklet prepared for America's Bicentennial)